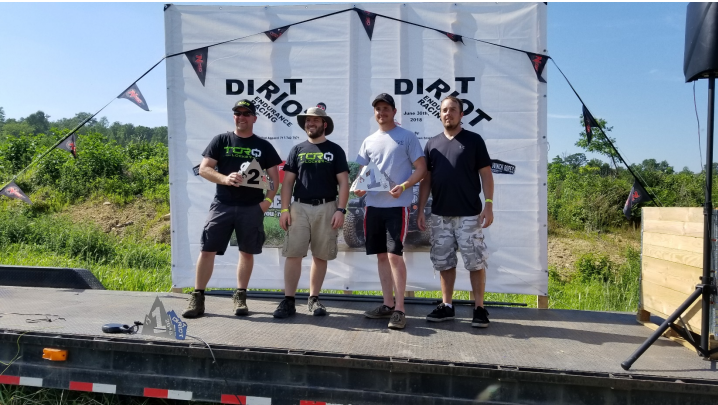 Torq-Masters Industries UTV Products place 1st and 2nd at the Dirt Riot Race, Rausch Creek PA.
Rochester, New York, July 2, 2018
Torq-Masters Industries sponsored drivers take 1st and 2nd place at the Dirt Riot Race June 30th, 2018 at Rausch Creek Off Road park in Tremont Pennsylvania.
Race Recap by Erik Jokinen, driver, TORQ Locker Can-Am X3 #901:
"Well… She Gone!
I'm afraid we may be replacing the engine in the Torq Locker #901 Can Am Maverick X3, but more on that later…
When Rick Knauer posted about hosting a Dirt Riot event at Rausch Creek, I was excited to get some additional seat time and test out our new E-Power Steering system.
Cora and I arrived Friday morning around 9:30. We registered and I went out for some pre running solo. I took it easy for a few laps because I didn't have a course map loaded into the GPS yet and Mike was still en-route to the park. Everything was running and working fine. I started adjusting the power settings for the Steering throughout the race course to try and get a feel for it. It was great to have reliable and predictable steering back again. The system actually had more than enough power. I settled at about 60% to start the race. Anything above that I felt didn't give me enough feedback in the Steering wheel for these conditions.
Saturdays weather was supposed to be mid 90's. Hottest day so far this year. We drew numbers for our starting positions and I was starting second behind Matt.
As soon as the green flag dropped I stood on the throttle and immediately knew something was wrong. We had a huge decrease in power, like we lost the turbo. The decision was made to stay in the race. We had to really maintain our speed in the corners in order to keep the rpms up or it would just fall on its face. The course was really fun. The whole Knauer family and Dirt Riot team did a great job laying it out. There was a mix of everything from rocks, stumps, tight woods, tight turns and wide-open sections. I really enjoyed it a lot.
Close to an hour into the race we got the white flag and started our 5 and final lap. The power situation was terrible at this point. The engine sounds terrible, and I'm starting to think it may have lost a cylinder. 1/2 way through our final lap it goes into full limp mode. Now we are creeping along the course. I almost had to put it in low range at some points.
But, we made it across the finish line, and that's all I was hoping for. I decided it was probably a safe move to park a little farther away from the trailer than usual just in case it caught on fire. And I'm glad I did. The guys noticed smoke coming off the rear of the car after I finally stopped. I removed the spare tire, tool bag and jack and we watched the factory plastic back rack starting to deform from the extreme engine and exhaust heat. There was zero coolant remaining in the system, so I'm pretty sure we blew the head gasket if not more.
Mike and I finished the UTV race and immediately jumped into my codrivers Mike's car in the opposite seats. Despite the overall heat of the day and losing 1 of 2 transmission cooling fans the car stayed cool and worked great.
After the last race we all headed back down to the main Dirt Riot tent to see how everyone else did and exchange some stories from the day. Matthew Moore of Bad Advice Racing finished first in the UTV Pro class with his TORQ Spool equipped Polaris RZR. Rick handed me the 2nd place trophy for the UTV Pro Class. My codriver Michael Maskalans got a well earned 1st place in the 4800 class.
We all had a ton of fun racing at Rausch Creek again and would like to thank Rick Knauer, Angela Knauer and of course Rich Klein, Shelly Klein and Rausch Creek Offroad Park.
Racing on a UTV platform sure has been a roller coaster ride and I want to thank everyone that continues to stand behind me. That dream of the perfect race day ending with our whole team up on that #1 podium spot is what motivates me to keep pushing harder."
Short Race Footage Video, optimized for Facebook HD, available for download (so you can upload to Facebook directly and reach a larger audience) :
https://www.dropbox.com/s/5ngbmw2zjnk3aqg/2018%20Dirt%20Riot%20Rausch%20Creek%201%20FB.mp4?dl=0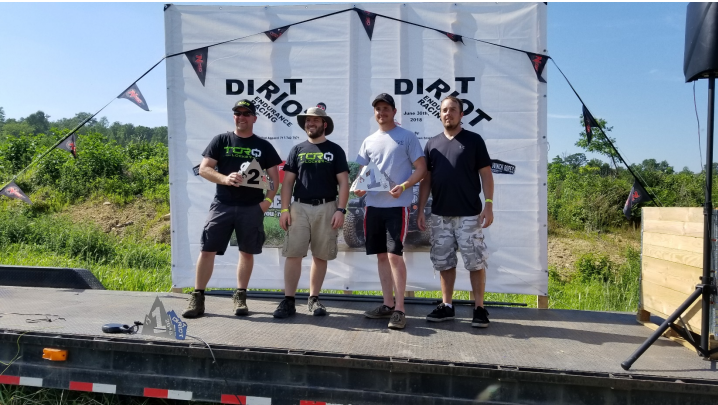 Connect with us on Web and Social:
www.torqmasters.com
https://www.facebook.com/TorqMasters
https://www.instagram.com/torqmasters
https://www.youtube.com/channel/UC6h3ygTuxmMiYa6Hyfap2cA/videos
Cora Jokinen, President
Torq-Masters Industries Inc.
info@torqmasters.com
www.TorqMasters.com