What is a Fire Suppression System
A Fire Suppression System designed for automotive or powersports use can be very simple or very complicated, but the overall goal is the same: to give the driver time to exit the vehicle in a fire situation. These systems are automatic, or manual, or both. we've designed these systems for both manual and automatic. We've added a second mechanical pull with the intention it would be located at the rear bumper area of the vehicle. This second pull is for a safety official or course worker to pull if the driver of the vehicle is incapacitated or unconscious.
Note: These kits are built to order and date 5 to 10 business days to ship.
We will have spare bottles and handheld bottles available soon.
For refills, racers can have them refilled by SPA or any FireAde rep.
The E sticker is placed on the vehicle to show where the mechanical pull is.
The AMU block is an aluminum junction box that mounts in line, wherever you want, and has the thermal bulb and splits from 1 line from the bottle, to 2 lines for the nozzles.
Bottle Dimensions (FireAde)
5lb: 15 ¼"h x 4 3/8"dia
10lb: 22 ¼"h x 5 ¼"dia
Remote Head
Canister filled and pressurized with FireAde fire suppressant, includes remote head with a gauge
Mount
Canister mounting system
Thermal Bulb
Remote 3 way activated aluminum head: 2 mechanical pulls and one automatic thermal bulb rated to 200F
Nozzles
3 or 4 spray nozzles and aluminum tubing
Leavers
2 mechanical pull leavers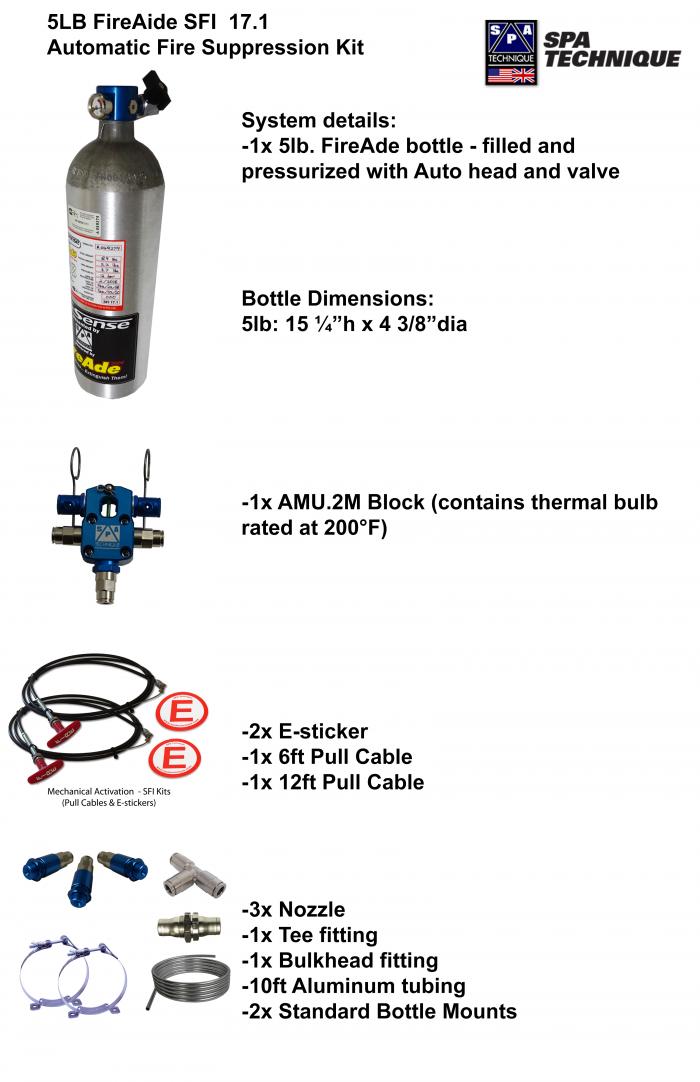 5 lb FireAde with 2x pulls, 3x nozzles and standard mounts. Part No.: SPAfs TQ5-STD Retail: $702.00 each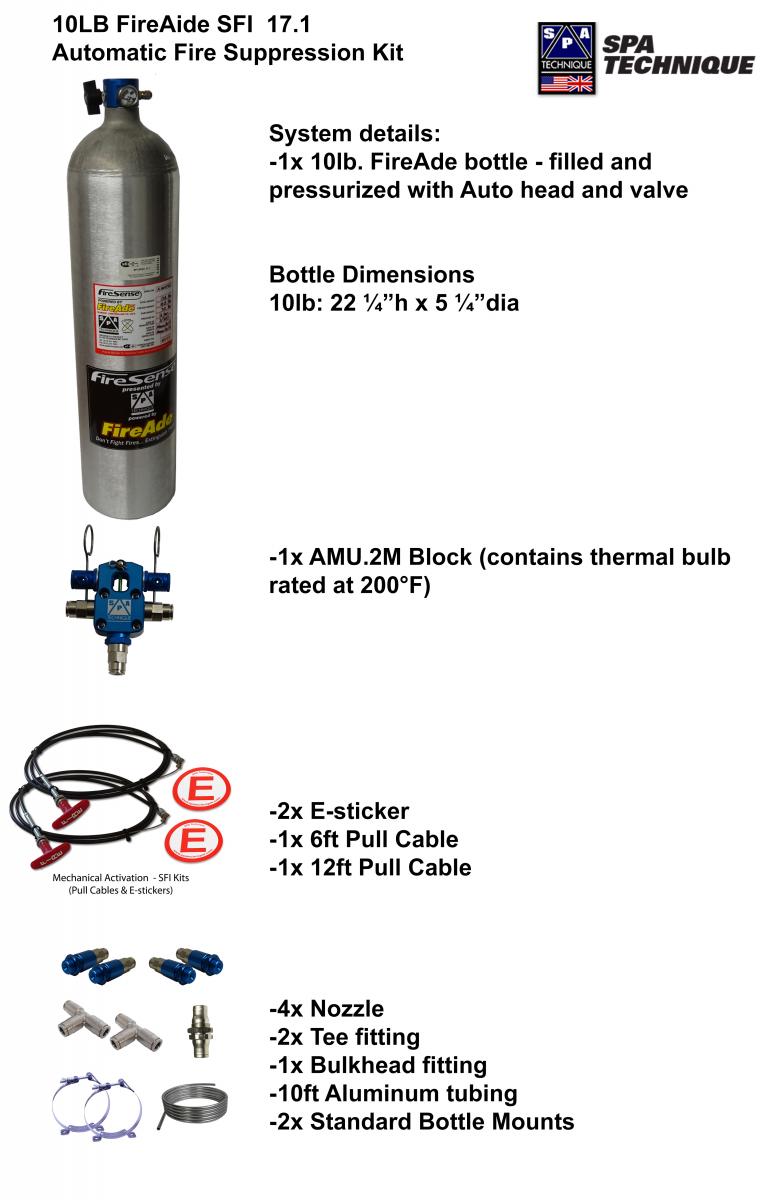 10 lb FireAde with 2x pulls and standard mounts. Part No.: SPAfs TQ10-STD Retail: $898.00 each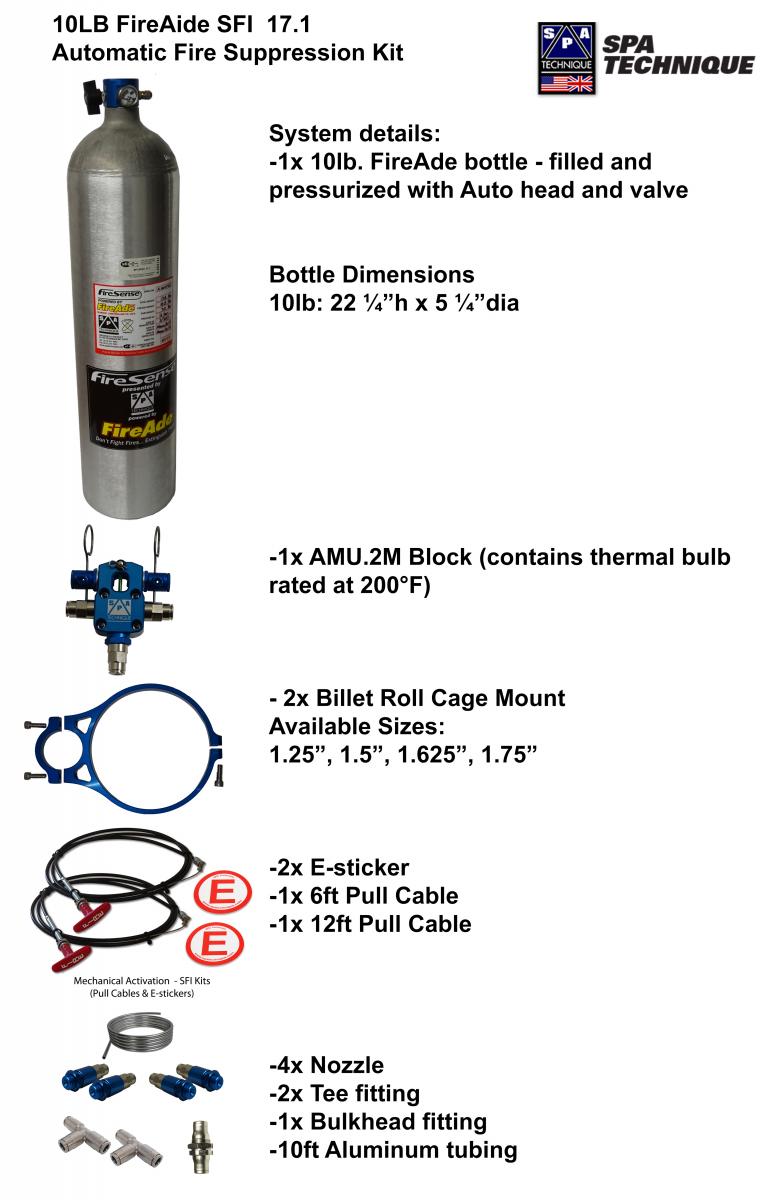 10 lb FireAde with 2x pulls and Billet Roll bar style mounts. Part No.: SPAfs TQ10-B175 SPAfs TQ10-B1625 SPAfs TQ10-B150 SPAfs TQ10-B125 Retail: $1,145.00 each