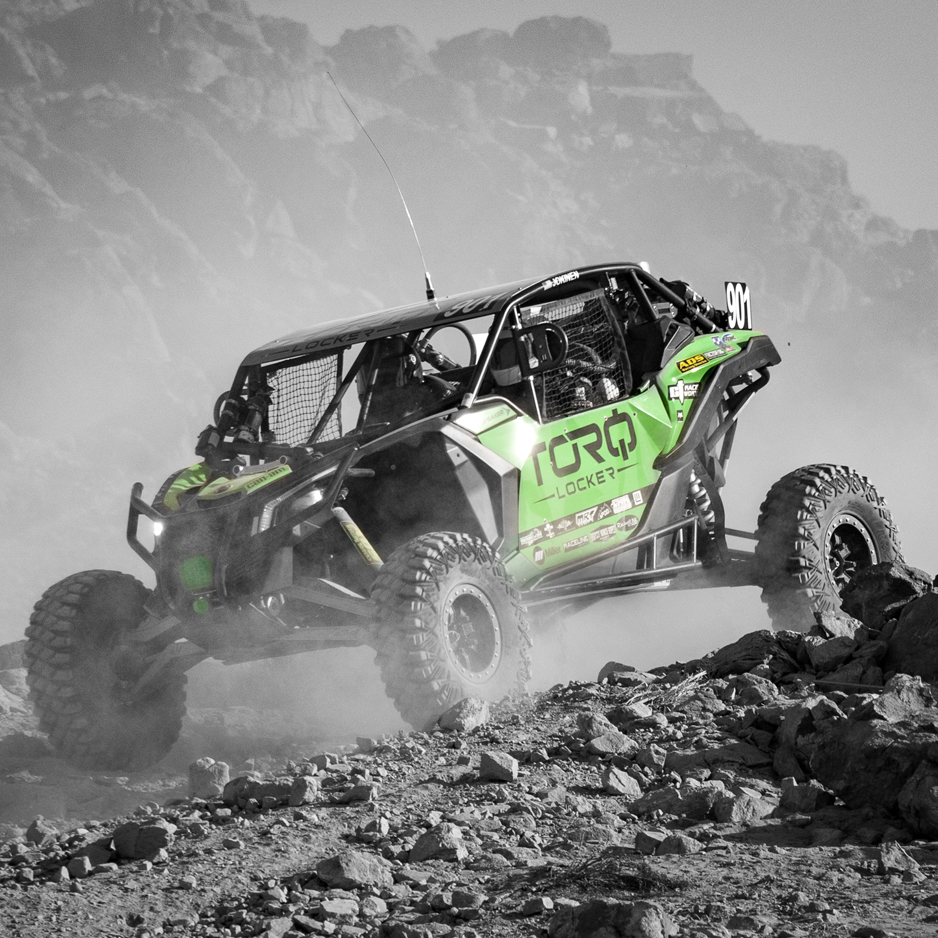 Team TORQ Locker UTV & Stock Class King of the Hammers Race
February 26th, Victor New York
The Team TORQ Locker journey to compete in the 2018 King of the Hammers race started back in 2016, the day after Cora and Erik Jokinen raced the #4610 TORQ Locker Jeep in the King of the Hammers Every Man Challenge. The husband and wife team built the Jeep together in 60 days, it performed flawlessly, but they timed out before crossing the finish line. Cora and Erik vowed to come back and race what's claimed as the Hardest 1 Day Off-Road Race in the World, the King of the Hammers.
In 2017 Torq-Masters Industries released the first line of aftermarket UTV and ATV automatic locking differentials, the TORQ Locker, and full spools and mini spools, the TORQ Spool. For research, development and racing, Torq-Masters purchased a 2017 Can-Am Maverick X3 built by CT Race Worx, installed the TORQ Locker and began racing the Ultra4 Short Course Series with Erik Jokinen in the drivers seat and Michael Maskalans as co-driver. King of the Hammers is the ultimate proving grounds for any product, there was no question, Team TORQ Locker knew they needed compete in the 2018 UTV King of the Hammers race.
Race Prep.
#4610 TORQ Locker Jeep was in pretty good shape, Cora had just raced the Rebelle Rally, a 7 day, 1,200 mile rally raid in October. #4610 was converted from Overlander to Race Car in a few simple steps, removing the windshield, roof rack, refrigerator. New additions that made noticeable improvements in capability were Milestar Patagonia 35" tires and a Superchips Trail Dash 2. J.W. Speaker swapped out driving lights and to their newest models.
#901 TORQ Locker Can-Am X3 was a complete tear down to bare chassis and rebuild. Major changes included the first production CT Race Worx fabricated rear trailing arms, CT Race Worx fabricated front upper and lower control arms, SPA Technique fire suppression system, roll cage reinforcements, Corbeau seats, J.W. Speaker lighting, dual battery, Bigfoot Winch Line and recovery gear, spare tire mount with Mac's Straps, roll cage and body paint, 100W Rugged Radio and Intercom, sPOD HD system, 32" Kevlar Stickey Moto Race Tires, Raceline Beadlock Mamba wheels, SandCraft limit straps and last but certainly not least, ADS Racing shocks tuning and re-spring work.
Team TORQ Locker departed Victor NY in late January to make the cross country, 2,500 mile trek from NY to Johnson Valley CA. The team arrived 7 days before their first race day with plans to pre-run the trails and shock tune with ADS. The team at ADS was booked solid all week, their tuning services in high demand, and rightfully so! ADS dialed in #901 and #4610, both cars running better than ever before in the desert and rocks. Several good friends joined the team in their Hammertown Pit location for the week as pit support. Tested, tuned, supported, team TORQ Locker was ready to race!
Race Day
# 901, TORQ Locker 2018 UTV King of The Hammers Race Report for Torq-Masters Industries, by Erik Jokinen.
To say we had an uphill battle ahead of us is the understatement of the year!
The 2018 King Of The Hammers UTV race presented by Can-Am Off-Road and HRC left the line on Wednesday morning at 8am. The race course covered 134 miles of some of the toughest terrain in the country, and 120+ racers paid to get their chance to conquer it.
But let's back up a few days…
We arrived on the lake bed a week in advance planning to get as much seat time in as we could.
Day 1 – unloading and pit setup.
Day 2 – Shock Tuning with ADS Racing Shocks
Day 3 – Shock Tuning and final adjustments to the new CT Race Worx Suspension System
Day 4 – Pre-running Lap 1
Day 5 – Pre-running Resolution & Backdoor
Day 6- Final adjustments, packing the car, packing pit boxes
RACE DAY – I woke up at 5am after 4 hours of sleep, ready to Race! As we climbed into the car at our staging position the air was electric. It was time to show the world what the #901 TORQ Locker Can Am Maverick X3 can do. We took off from the start line in 109th position. My co driver and close friend Michael Maskalans kept us on course through the dust on lap 1. Shortly into lap 1 I started to realize the decision I made not to qualify was a poor choice. We passed so many broken and stopped cars within the first 25 miles I lost count. However all the extra time we spent fine tuning our car and dialing in the shocks started to pay off. Mike and I rolled in and out of the first large rock section, Cougar Buttes at aprox race mile 25, with absolutely no issues.
The return trip back to Remote pit 1 was a ton of fun. At pit 1 we tossed in 5 gallons of gas for safe measure. Our pit crew did awesome and we were back on course in no time. The section between pit 1 and main pit had to be my favorite. Wide open desert sections with multiple line options, whoops and fast corners all ending at Melville Dry Lake. In this section we saw a top speed of 85 in pre running here and 75 in the race only due to the dust. A stock Maverick X3 is unlikely to reach these speeds with stock suspension and shocks without serious damage. Our CT Race Worx heavy duty suspension and extensive shock tuning with ADS is how we can do what we do in the desert and in the rocks.
Next was Resolution trail a short gnarly down hill canyon that ends at Backdoor. The famous waterfall on Backdoor is nearly 15 ft tall and on some lines and vertical. We had to drop down the massive waterfall. Pre running this obstacle days in advance paid off, we walked down the waterfall on our pre-planned line smoothly. We rolled into main pit to top off the fuel and a more thorough check of the car. The crew quickly checked the lug nuts, re torqued one axle nut. Everything else was working perfectly.
The start of lap 2 runs through the short course in hammer town, then a short desert section before the first big rock trails. Mike and I have spent a lot of time rock crawling back east so we were looking forward to making some good time in the rocks. Our MRT – Motoracetire.com provided the traction we needed to climb almost anything, and our new HD fabricated arms from CT Race Worx not only gave us the strength to withstand a pounding in these huge rocks, but also the additional ground clearance made it possible to take harder lines than ever before. Combine that with the strength of our full skid plate by Factory UTV and this X3 was unstoppable. Bottlenecks and stuck cars in front of us are where we spent a lot of time. Mike got out of the car often to help clear the trail ahead so we could continue on.
We definitely put our Factor 55 thimble, Bigfoot Winch Ropes, soft shackle and recovery straps to some hard use. As we rolled up to the bottom of Chocolate thunder we saw a line forming on the left, so in typical NY driver fashion we decided to find another line. Mike jumped out and we started up the far right line, a line I've never attempted. I gave it two tries and then we pulled cable. Taking the right line, even with winiching, proved to be the most efficient. We watched the others struggle and one car even rolled. The choice to take the right line netted us at least 2-3 positions.
After Chocolate is Jack North trail. This is where our day would take a turn for the worst. We immediately encountered traffic ahead of us so my co driver jumped to action. We as a team feel it's better to lend a hand clearing the trail for everyone's benefit than to sit in our car watching. Jack North is an uphill trail littered with loose rocks and giant boulders. As Mike assisted some of the other teams, I progressed up the trail at a very slow pace. Sometimes when you are in a tight bunch like this it easy to lose track of what's ahead of you and that's exactly what took us out. I attempted to make a pass on the left of another driver and that put my 32″ tires under a large undercut rock. Not realizing I attempted to climb it and broke a driverside front inner axleshaft. Changing an axle shaft on the trail requires pulling the differential to open it up and remove the broken inner shaft, such a trail fix was not possible in the time remaining in the race. I immediately felt a rush of disappointment. We had worked so hard and come so far. We started 109th and made our way up to around 35th position. After a few more cars passed us on the trail we ended up with 44th place.
As we started to pull our winch to get off the line our good buddy Scott Decker co driver for Erik Miller came up to assist. We quickly moved our broken car offline to enable the driver's behind to pass. The decision was made that we couldn't drive or walk to the next pit, make the necessary repair and continue on to remote pit 2b before the 3:30 deadline. So we would call our race at the top of Jack North. We spent the next hour and a half helping the remainder of the teams through the difficult section.
As we did all throughout the day, we called to our pit crew using our new 100 watt Rugged Radios to fill them in. 4 pm marked the close of the UTV race and the end of our adventure. We turned around and limped our way back down the trail to meet up with Cora Jokinen at the bottom. The drive back to Hammer Town was slow and it gave me a lot of time to reflect on one of the most amazing days of racing I've ever had.
As a UTV team we continue to grow with every race. This is only our 3 event in this class and I can't be more proud of what this small group of friends, family and partners have accomplished. We couldn't do what we do without the help of some of the best people in the world.
I can't wait for the next event Round 1 Ultra 4 East Coast AOAA. ~ Erik Jokinen
# 4610, TORQ Locker 2018 Stock Class King of The Hammers Race Report for Torq-Masters Industries, by Cora Jokinen
6am line up for the Smittybuilt Every man Challenge at King of The Hammers. The EMC race combines 3 classes, Legends, Stock Modified and Stock Class. The EMC is one of the biggest races of the week with 135 entries. The 2018 Stock Class is the biggest ever with 27 entries ranging from Jeep LJ's, ZJ's, XJ's, JK's, TJ's, and a few Toyota pickups. We love the stock class because it's truly an attainable class for the average Joe or Joeanne to race in. This class is limited to 35″tires, Stock engine blocks, Stock frame, stock body and 2.5″ smooth body shocks with remote reservoirs.
At 8am the first cars (cars, short for race cars) left the start line. Legends and Stock Modified go out first as they are much faster. As we rolled up to the line where a bunch of my Rebelle Rally friends working Media for KOH were there cheering us on! Their cheer made the butterflies fly away. We are ready, the Jeep is ready, our pit crews are ready, Erik Jokinen and I are ready. We started 8th and left the line at 8:28 am.
If the first few miles of race course were an indication of the remainder of the race, it was going to be a brutal day. The desert loop, lap 1 as they call it is not a piece of cake. 2 miles in we hit 2 huge hill climbs, one was covered in loose steep rocks, the other deep sand. These hills were chaotic with multiple teams trying to climb at once, many having to back down and try it again. Last time we raced KOH there was a similar hill over by Back Door, in 2016 I had to hit it in low range. This year with new Milestar Tires Patagonia 35″ tires and a Superchips Trail Dash 2 performance tune, we hit the same sand hill near back door during pre-running in high range and got up quickly and easily. Knowing the clear performance enhancement of the tune and tires I hit these first 2 hills in high range, passing multiple teams attempting the hills. Awesome.
The next 20 miles were whoops, rocks, sand and choppy rocks. The Jeep, and occupants were taking a beating. The Jeep was doing fine, me not so much. A few mile into the race I started to notice something was wrong. We stopped 3 times on the way to Cougar Buttes, by time we got there I could barely breathe I was in so much pain, I had severe kidney pain. I had to make the devastating decision to get out of the car. Erik called over the Rescue 3, Inc. volunteer paramedics to check me out. He wasn't leaving until he knew I was ok. My friend Andrew McDaniel from Rescue 3 knows us from the Rebelle Rally, the Mint 400 and KOH, luckily he was posted at Cougar Buttes. They checked me out and assured Erik I would be in safe hands. We called our pit crew to ask for a new navigator, Megan Stevenson was the only one in our pit crew with race insurance, and available. Good thing she brought her helmet and fire suit! She agreed to navigate with no questions asked, which I am so thankful for. Erik took the drivers seat and made the Cougar Buttes huge rocks look like a walk in the park. Rescue 3 brought me back to our main pit in Hammertown. Erik drove solo 23 miles to Remote Pit 1, trying to read the GPS from across the car, and picked up Megan.
Megan and her fiancé Brian Wood began racing together a few years ago. Based near Fresno CA, they have a Trent Fab built race car. Last year they raced King of the Hammers, and this year they came to support one of our East Coast tent teammates, Jim Widmaier from PA. Megan and I got to know each other through Facebook and at the Ladies Off-road Convention. She also won the Ladies Off-road Co-Driver challenge and spent 10 days chasing the Baja 1000 with Charlene Bower and BFG tires. To put it concisely, Megan is a badass with a big heart and plenty of Talladega Nights quotes.
Remote Pit 1 to Main Pit, 15 miles, crosses through a Marine Base with whooped out sandy tracks, then high speed across the dusty, low viability Melville dry lake bed. The last mile is one of the toughest, most dangerous of the course, down Resolution, and down Back Door. The Back Door waterfall is about 15′, vertical, with a hole at the bottom. We had pre-run it in the Jeep and UTV, so Erik knew his line. Megan kept an eye on the passenger tire from the passenger seat, making sure they were in the right spot, and they drove right down the waterfall, making it look easy.
Main Pit. I arrived at main pit just as #4610 was coming down the Short Bus trail and was in view. They flew into main pit, on a mission for fuel and cold water. Erik was very relieved to know I made it back and was feeling ok after a couple waters and a Gatorade. He could now fully concentrate on the race. Side note, they had the AC running in the Jeep. There's not many (or any that I know of) running AC, but it sure does help when you are stuck in a trail backup, roasting in your fire suit and helmet. They ran the AC most of the day. Main Pit to Remote Pit 2a. Choppy, rocky whoops, those 2 big hill climbs again, then a right hand turn across the valley towards some of the hardest rock trails on the planet. Erik was charging hard across the desert, pushing the Jeep harder than ever before, 55mph and 60mph in the desert, which is superhuman for a Jeep. It takes a lot of work to get there, overbuilt axles by East Coast Gear Supply, Clayton Off Road pro suspension, ADS Racing Shocks with days of fine tuning, and Corbeau Seats USA suspension seats to buffer the bumps. About a mile from Remote Pit 2A a rattle formed in the front end, at first he thought the motor threw a rod.
The rattle became a clank, and that's when they knew something had let go. Erik called ahead on our Rugged Radios to tell the crew to get the welder ready, we will probably need it.
Our pit crew is made up of friends and fellow racers, paid in Hoodies and snacks, they travel 2,500 miles to help and enjoy the experience. It's no small feat, we appreciate the help, Michael Maskalans, Alex Lenhard, Michael Abbatte, Zach Tarbell, Jesse Apostolakes, Matthew Garofalo, Cusaic, Megan, Brian, and racers Karl Knack and Jim Widmier.
They found the clanking noise, the top of the drivers side shock tower had blown out. With some various sized washers and ingenuity from the crew, Zach welded up a repair using our Miller Electric Welders Multimatic 200, using the MIG setting on this multi process machine. In total about an hour in the pits then they headed off for the rock trails.
The Hammer Trails. The Stock Class course included 10 of the Hammer Trails, Boulderdash, Upper Big Johnson, Clawhammer, Fissure Mountain, Sledgehammer, Chocolate Thunder, Jack North, Jackhammer and Compaction hill. The Stock Class has multiple bypasses to cut off more of the Hammers trails due to time constraints. Even with the bypasses few in this class ever finish the race. There are approximately 27 miles of Rock Trails. Recreational off roading , maybe you would do 3 trails a day. The Stock Class race teams attempt 124 miles of desert and rocks in 10 hours.
4610 entered the rock trails at 3:00pm. Along the way they encountered broken and recovering teams. They helped winch a few, and winched themselves on Clawhammer. Their progress ground to a complete halt when they hit the Sledgehammer trail. There was a bottleneck at the Plaque Line with broken vehicles and everyone in line slowly winching. Megan pulled cable after 4610 slipped off a rock, jamming the Jeep between a boulder and the Plaque Line. This backup cost the team another hour. Erik radioed back to Base camp to tell us his position, and that there was no physical way we could get to Remote Pit 2B before the 6pm cutoff time. I responded from base camp to ask if they would keep going or call it a day. Erik says "I'M GOING TO CHOCOLATE", we could hear the motor screaming in the background, everyone at base started cracking up.
Chocolate Thunder is one of the main spectator areas, there's a big brown sand hill on one side of the gully, rocks on the other and a mixture of both in the middle. His last trail of the day, Erik 'Rickey Bobby'ed' it, taking the left line, a clean run up the notorious trail with a cheering crowd littering the hillside. Our Aluminum Body Armor by Nemesis Industries holds up to Erik 'sending it' which is sometimes the only way to get through these huge rocks with 35″ tires. The end of Chocolate Thunder is about a mile from where Erik and Mike broke down in the UTV race. Bittersweet. 4610 turned south and back to Base camp, the end of our race.
Out of 27 teams 2 finished within the time allowed in stock class. We officially finished 11th place.
They don't call it the Hardest 1 Day Off-road Race in the World for nothing. We gave it our all, and even a little more. We couldn't do any of this without the support of our friends, family and partners, truly. Thank you for taking the time to read our race report, it's not always all about our final score, it's the epic journey to get there and the friends and relationships we build along the way
The professionalism and dedication of our Team, family and friends, combined with the continued support from our Marketing Partners ensures our future success, and for this we wish to say thank you.
Cora Jokinen Owner/Driver
#4610 Team TORQ Locker Jeep
President, Torq-Masters Industries
Erik Jokinen ,Co-driver
#4610 Team TORQ Locker Jeep
#901 Team TORQ Locker Can-Am